What is Fairycore? Aesthetic
As Fairycore Aesthetic has been popular on social media for a while, we've compiled the best fairycore-inspired looks for you to attempt! We have the ideal aesthetic for you if you want to infuse a little enchantment into your daily life: meet the well-known fairycore style. Thanks to Tiktok, where it is particularly popular, this particular internet subculture has garnered (and is still gaining) a lot of momentum. Fairycore enthusiasts who use Tiktok frequently post videos of their daily activities. Many of them dress up in lovely dresses, enjoy tea and books in the middle of flower gardens, and occasionally even sport a set of iridescent fairy wings.
Fairycore Aesthetic VS. Cottagecore Aesthetic
The believe in magic itself is the most important component of the fairycore aesthetic. Finding the wonder in everyday objects and natural phenomena like butterflies, blossoms, wildlife, and more falls under this category. Fairycore also emphasises tenderness and gentleness, and also dressing pastel colours and anything floral. Doesn't it sound like cottagecore? In some ways, it resembles cottagecore, but the real variation is that fairycore is fueled by magic, as if we are living in a world of imagination where fairies are real and fly around. Cottagecore is primarily centred on modest living, particularly in rural areas. Simply defined, fairycore contains mystical characteristics, whereas cottagecore has organic, natural elements.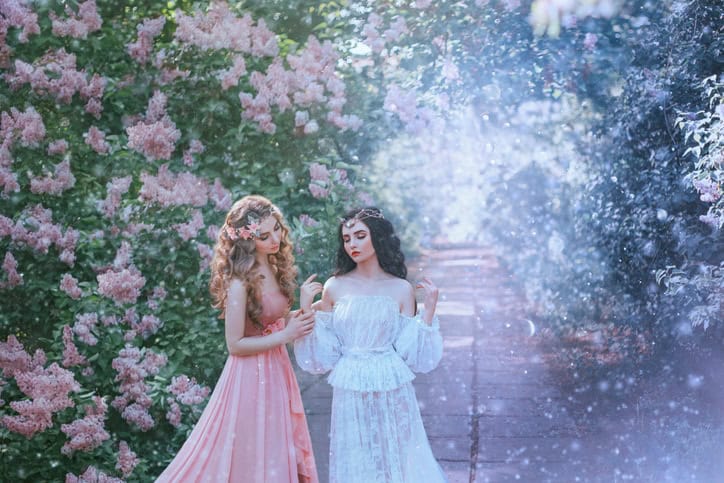 Important Aspects Of Fairycore Fashion
Wearing flowy gowns is a key component of fairycore fashion, as this is how fairies are typically shown in the fantasy book drawings we see so frequently. The gowns often have flowery patterns and are made of chiffon or mesh. The dresses can occasionally also be constructed of lace and sheer materials. While opting for a fairycore style, you must add a touch of sparkle to your makeup and collarbones because it plays a significant role in the overall effect and adds a touch of magic. The most straightforward fairycore makeup technique is a rosy appearance. You can even embellish your makeup with additional elements, like as fairies or wings, to make it seem more extravagant. Usually, flowy hairstyles, waves, or braids make up fairycore hair. The addition of flowers to the hairstyles is also common. Fairy wings are optional but highly suggested to truly embody the fairycore appearance. Don't worry about adhering to a strict list of dos and don'ts because there are many ways to pull off the look. Instead of focusing on how an outfit makes you feel, fairycore fashion feels more concerned with the place it takes you. For example, think of pastel colours that make you think of spring or earthy colours that make you think of forests or a cosy cabin getaway. Then, there are parts that depict a fantastic picnic: sheer materials, fluffy clothing, or gingham patterns. It should come as no surprise that the TikTok community has a pretty decent handle on the skill of layering as an aesthetic this intricate leaves a lot up to the wearer's imagination. Fairycore frequently features billowy maxi skirts layered over midi dresses and finished off with vintage-inspired corsets or sweaters.
Also read: Wood Aesthetic | Aesthetic Toys | Lion Aesthetic